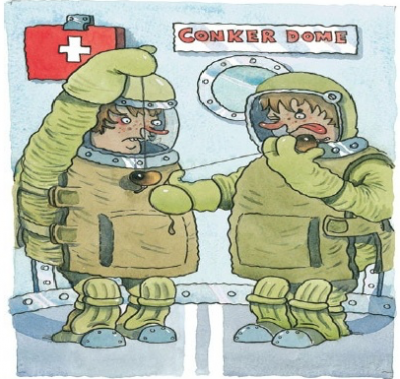 We've all heard stories how health and safety have "gone mad" or "over the top", such as school children wearing safety glasses while playing conkers or a holiday operator banning dodgems due to the risk of bumping.
I am sure, like me, you have sat through many health and safety meetings or briefings and thought: "Really?!" Some of the ideas or solutions imposed can seem over the top or quite inappropriate for the task at hand. And often you are not alone as you look around the room, many of your colleagues have the same expression on their face, or have simply switched off.
Therein lies the danger: Educating people to think that health and safety stipulates a set of rigid rules with no room for a practical or sensible approach, when actually it is the practical application which has been totally misunderstood.
I, personally, have completely bought in to health and safety. However, this wasn't always the case, it only came about after really understanding the objective of health and safety. From my experience I feel companies need to improve their approach when discussing the importance of health and safety with their staff, starting from the top of the organisation.
This involves not just telling employees what they need to do but also discussing practical methods and means of working safely. The result will be an engaged workforce who are more likely to buy in to the company's health and safety approach.
So how do you do it? Consider two simple methods:
Provide opportunities for discussion
People generally respond better when they have the opportunity to voice their opinion, and health and safety is no different. If your employees have involvement, they are more likely to adhere to the decisions made. Consider the best way to promote positive discussions related to health and safety in your workplace. Here are a few suggestions to get you started:
Use toolbox talk sessions for feedback
Involve employees during the creation of risk assessments or method statements
Establish a health and safety committee(s)
Dedicated health and safety section during appraisals
Create a central email account for health and safety related suggestions
Open door policy so employees can talk about health and safety with management
Why not ask your employees how they would like such opportunities to be organised?
Provide effective training
There will always be a basic set of training requirements each organisation will need to provide for employees, however training can often become repetitive or even boring. So effective training is vital!
For instance, what do you do when you learn something new? You likely share it with others. But the buzz of this newfound knowledge motivates you to put it into practice. That is the result of an effective training session.
When it comes to health and safety training, if it is effective then it can become a superb method of getting your employees to buy into health and safety. Use practical sessions and aids during training to make it more interesting and applicable to the employee.
For instance, when carrying out a training session on the use of PPE, provide a sample of the equipment employees will likely need to use. This allows employees to become familiar with the process of wearing, inspecting and maintaining PPE. But it also helps identify any potential issues employees encounter when using PPE. At the end of the session they will be more likely to wear PPE correctly and possibly share this knowledge with their colleagues.
The trick is to listen to the needs of your employees, by asking questions like: What training do they think they need? What additional training would they like?
Also, listen to line managers for suggestions, perhaps they have noticed specific areas in which employees need a refresher or additional training.
To keep it fresh, don't be afraid of changing a training provider, especially if you have used them for some time and feel the training needs a fresh approach.
At ADL Consultancy our aim is not only to help you achieve registration to ISO45001 Occupational Health and Safety, but to help you determine what your health and safety risks and legal responsibilities are, successfully mitigate potential risks and provide your employees with the training they need. This will result in the protection of your employees and your business.
If everyone is actively involved in a positive health and safety culture, then the negative impression of health and safety in the workplace can begin to change.
Written by Martin Ellington Tech IOSH – Quality & Health and Safety Consultant